Surely at home you have more than one mantle with matching cloth napkins in a plain color or tone ... And, if you do not have it, I suggest you go running to buy one because with a simple idea you can turn it into a beautiful design tablecloth.
The idea is to decorate tablecloths and napkins with a simple stencil and some paint. The result can be that spectacular:
If you are a handyman and you like to draw and craft, you can create yourself the design that you like the most, you will only have to make the drawing and then cut it to obtain the template l stencil. Although, if drawing is not your thing, do not despair! In any craft store you can find many templates with beautiful design, you just have to choose the one you like the most.
Once you have your stencil or template, it's time to move on to the funniest part of the project, it's time to paint! In addition, it is very easy, you will only have to apply the paint with a stencil brush.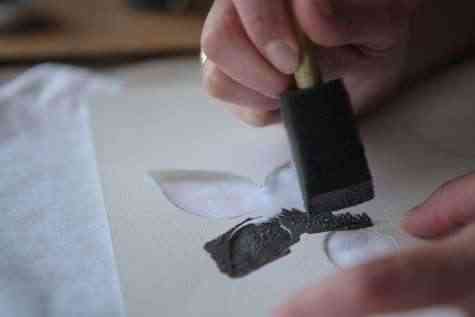 The result is spectacular and, you can choose to simply paint some details or create original prints. In addition, it is an idea that will allow you to adapt your tablecloth to the rest of the decoration, since you can paint your tablecloths with the designs and colors that you like ... You can even create different designs and count with different tablecloths, of different styles and for Different occasions.
In this case we have spoken, because the images show it as an example, of table linen. However, it is a technique that you can put into practice on any textile: cushions, quilts, sheets, curtains, etc.