A different idea to separate the spaces in a small home are the panels. In this case, they are Japanese panels.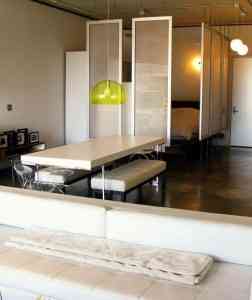 They are static, that is, they seem to float since they are hanging from the ceiling and fixed to the floor, with which the panel gives the sensation of being in the air. The effect is clearly seen in the upper image.
Not being a closed structure but with slots and free spaces, you do not lose the sense of space but you gain distribution and intimacy (at a given time). It also has the advantage that they can also be customizable. If a smooth model is acquired, it can be decorated with fabrics, vinyl or any other decorative material.
Vía: Apartament Teraphy