Our corridors can be mere transit spaces between our environments, or places of broad spectrum and constant travel, as it happens in the case of commercial premises, and rooms destined to hosting service, whatever they were, there are practical and effective solutions inside the decoration of interiors that enhance the aesthetics of a morphologically complex place to decorate for its small and narrow dimensions, where to take advantage of each element willing becomes an art and not only contributes to the global decoration but can well become the main argument of aesthetics projected in the rest of the spaces.
Among the decorative secrets that we can find, stands the dressers, small pieces of furniture that thanks to their morphology and features can be arranged in an ornamental way in our corridors, we find several pieces being those that are framed in the avant-garde, the most efficient for their simplicity, short stature and tiny conception, destined only for ornamental object and left aside its functional capacity.
El K16 model by Muller Moebel It is a clear example of German creativity to define aisle sideboards intended for a vanguard that highlights the purity of its lines and the appropriate morphological presentation.
Mirrors and wall luminaires are also high-impact decorative elements, which can create ambience in a narrow space and characterized by circumstantial traffic, the range of variables is enormous and the wide mirrors manage to generate occasional visitors to the environment to stop a second to Observe yourself while the decoration interacts with them.
Swarovski is a novel concept of dichroic crystals which, as well as the crystals that bear their name, stand out for turning an object of diminutive size into a large-scale highlight, the luminaries They are characterized by embedded in our walls and generate a halo of light which impacts in a very positive way in space and is a clear generated environment.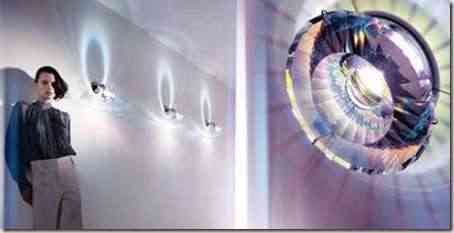 Without import our theme or trend the pictures are always a great excuse to have artistic concepts and clear examples of our conception of beauty, that is why in the market and especially in craft shops and artistic spaces we find a large number of dispositions of a singular beauty able to transform our corridors.