As always, in 2.0 decoration, we give you ideas and creative suggestions with which to decorate our rooms. So today we will talk about a very original idea that we can carry out with just one umbrella.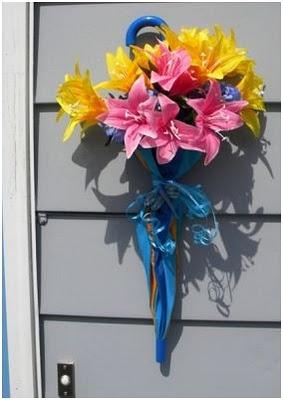 Everyone in the house has an umbrella that we do not use, so the solution is very simple. We will take the umbrella as if it were a vase and we will introduce flowers and then hang them.
Providing a different function, the object in question, is a perfect option to recycle items that we have saved or think about throwing. Lengthen the life of your articles.
As an alternative, this time, umbrellas of different colors and shades have been used, such as a vase. In this way you can expose in a different way the flowers that you like the most.
Dare to give a new use to your umbrellas and decorate doors, walls or gardens with this idea. Thus, we will beautify any corner we wish by combining the color of the umbrella with that of the flowers.
Surprise everyone with an original and intelligent decoration. Finally, remember that once the umbrella is ready, add a ribbon with a bow or a bow, the color that you like the most.