El Patchwork It is a sewing technique that consists of joining small pieces of fabric to achieve a specific design.
If we talk about decoration, it is very common to see cushions, blankets, quilts, carpets, etc. made through the patchwork technique.
If you like the Patchwork, I propose that you apply it to your decor. Although, not in textiles.
I propose that you bet on the originality and versions this technique to get a different decoration, striking, striking, attractive, charming and, of course, very original.
What do you think if you replace the remnants of fabric by pieces of stamped paper? And of course, instead of decorating textiles we decorate the wall.
The result can be like this: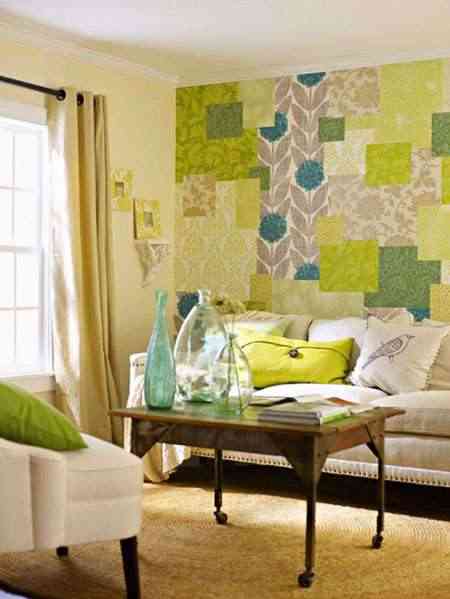 It's like a large decorative vinyl covering the entire wall. However, it is a wall papered using the patchwork technique.
If you want to apply this technique in decorating your home, this is what you need and what you should do:
Materials:
Stamped paper (different prints)
Scissors
Vinilic glue
These are the steps you must follow:
Once you have selected the papers that you will use in your patchwork, cut pieces of paper of different sizes.
Now it only remains to start papering. The largest pieces of paper will go under, the smallest, on top.
It is not necessary to follow an exact order, it is precisely to get an irregular finish (if you want to get a design similar to that of the image).
If you wish, you can previously design a drawing or shape and cut the paper according to it.
An easy idea to apply and, also, economic. Do you dare to include it in your decor?.