In addition to selecting the color we want, when decorating the walls, there are endless possibilities that can give us a lot of play. However, it often happens that in the decoration, the walls become a forgotten element. We are careful to choose the right furniture, to place them in the right place, to combine them with the rest of the elements that make up the decoration, to select the colors well ... But the walls go into the background and sometimes the only thing they contribute to the decoration is a feeling of emptiness, indifference or continuity.
Practical solutions to decorate the walls there are many and for all tastes. We can resort to more traditional decoration and opt for paintings, paintings, photographs, mirrors, etc. Or on the contrary, we can choose other more original and avant-garde options.
Below we show you some ideas that work when decorating the walls and that can help you turn them into the main protagonists of your home.
Playing with walls, shelves and color can be a good option that is decorative, original and also very practical.
The stickers so fashionable lately, they can fill those empty spaces, enhance rooms and bring them life.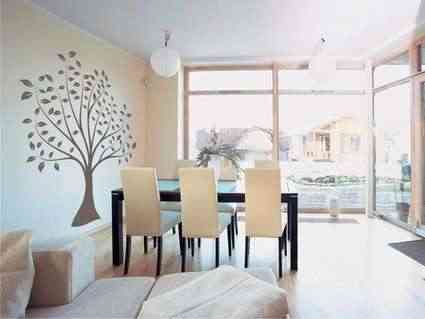 The wallpaper and even painting by hand some motif on the wall can also be very interesting solutions.
The classic photographs and paintings give the environment a very warm and original "touch". The secret lies in the choice of pictures, the combination of tones, colors and motifs of the images, in quantity and in sizes. Everything depends on the results we want to achieve.
Although if you run away from the classic and what you want is to get out of the ordinary, here are some ideas of the most original and avant-garde:
A wall practically covered by baskets.
Some green branches that become the protagonists of a minimalist decoration.
A tableware on the wall.
A mosaic of log discs that completely covers the wall.
Or a wall made with magazines.
In the end, it's just a matter of letting the imagination fly.