En Passover we like to decorate the house with cheerful and lively tones ... without missing candy, chocolates and decorated eggs. For this reason today we would like to share with all of you a proposal seen in Hostessblog.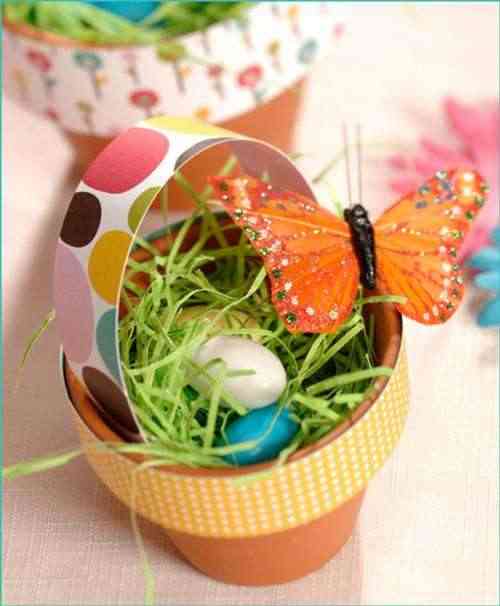 Something different for the decoration of any table or to put in a nice corner, is what today Decoration 2.0 we propose you These beautiful Easter baskets are made with simple plant pots.
The materials They are easy and simple to obtain. If you like it, we know that you love it ... the necessary materials will be pots or terracotta pots or plastic of different sizes, as many as we want. Paper or cardboard cutouts in green, these will serve to simulate boils. We will also need scissors, glue, ornaments, card stock and printed papers of the colors that we like the most, to decorate the basket-pot.
To begin, we will clean the pots well and measure their outline. We will have to cut out a rectangle of cardboard or cardboard whose length has this size. Remember that the width of the rectangle does not overpass the 5 or 6 cm. This rectangle we adhere to the contour of the pot, in the upper area.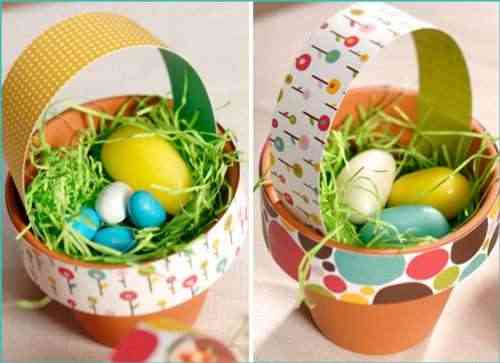 Now we cut another rectangle with the same measurements, we can do it from the same card or from another one whose patterns we like. This rectangle will serve to make the handle of the basket. Once finished we paste it, simulating the handle, inside the pot.
Now to make the lawn we just have to cut out pieces of green paper, elongated pieces style -juliana- and we spread them inside the pot.
To conclude, we will introduce chocolate eggs, sweets and / or flowers inside the basket and it only remains to place it in a beautiful place. Remember that it can be a beautiful centerpiece for this special date.