Today we propose a center for children's table. To celebrate a birthday or celebrate the babyshower, these beautiful centers will be the ideal proposal. The idea is very simple, use a nice fish tank, with ducklings, to make a fantastic centerpiece of children's table.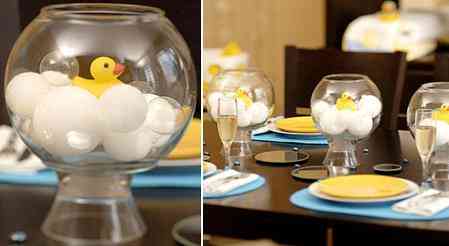 The materials what we will need are:
Transparent and transparent balls, in various sizes
Rubber ducklings
Fishbowl bags (it is better that they are plastic)
Small plastic cups
What we are going to do first is to take a big bowl and place the inside balls, the transparent balls, and these will act as burbújas. Fill the bowl halfway and try to locate in the center of the whole duckling, so it will look better. Now we take a glass and put it mouth down, to place the fish tank on it. This is how easy we get this curious centerpiece.
If you want to innovate, trust your imagination. You can always fill the fish tanks with some colored seeds, glitter, plants or look like another animal protagonist.
Remember that the decoration of the environment will have to match the theme of the duckling.