We love the natural, so today we will make a centerpiece using the most natural components! Using pears, combined with sprigs of wheat or rye we will give a rural and romantic touch to the decoration of our table.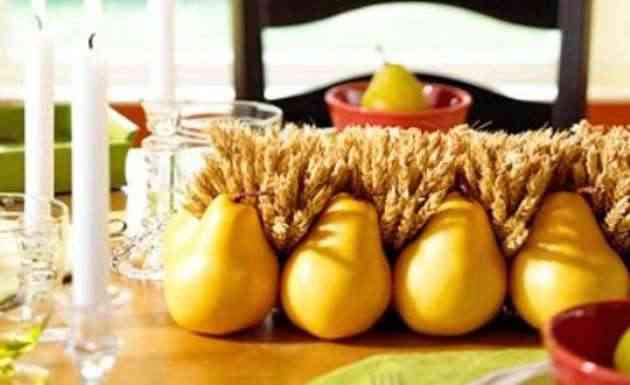 Almost any fruit could serve, but remember that we should look for natural components that fit the color of tablecloths and napkins. On this occasion the color used is apple green and yellow.
If you want to do it, materials They are:
10 artificial pears

Punch or metal skewer

Chopsticks

Glue gun

Thermostatic adhesive

4 bunches of rye

Floral wire
The first thing we are going to do is two rows of five pears on a surface, then mark with the punch the widest point of each of the pears and introduce a stick here, so we will make sure that the pear is right.
Now we join the pears and add, to each stick, a few drops of glue. We also join the two rows with this procedure, so we will create a rectangle of about 5 pears in length by 2 in width.
Then divide the rye, or what we use, into eight small twigs. Try to be the same and tighten them by the stems using floral wire. Then cut the stems, a little, to match the branches and put each one of them in the holes that have been between the pears ..
Once finished we can decorate any surface or table that interests us. We hope you like them.