Through the decoration blog Deezen we have known a new way to save space with furniture: dismantling it.
It's a proposal from American designers John Arndat y Wonhee Heong, the Studio Gorm, that they presented at the fair Direktorenhaus In Berlin. Is about Peg, a system for which the fir wood furniture that is easily disassembled and hung on the wall, on a coat rack, as if it were a scarf that we just removed or a pendant.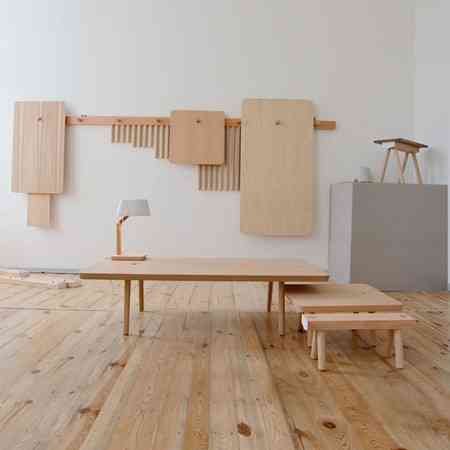 One by one they are hanging on the sturdy wooden bar, even the legs where they are supported, with also very strong supports capable of supporting the weight of a board.
In this way, when we need the furniture we pick it up and assemble it simply fitting some pieces with others, and once finished we hang them back on the wall, where they also fulfill a decorative function, being a sort of avant-garde sculpture.
We find from small stools to stools, side tables, bench or large table tops. In addition, the sizes of the legs and boards and boards can be exchanged to create new furniture each time. They are completed with a small table lamp, varnished wood and with a ceramic screen. Those who do not have space no longer have excuses not to put furniture to spare.
Further information: Studio Gorm