Having an office, office or workshop at home is not easy. Especially in small homes the search for a space where to locate our business is sometimes very complicated. Therefore in Decoration 2.0 we like to collect ideas to make your decisions much easier with the contribution of practical and functional options.
Today we would like to tell you about a space to take into account, especially for those people who do not have a large space in their home. Remember that almost any corner can be useful for the office, in this way the idea of ​​locating the business in the corridor of our house is opened ... really cool?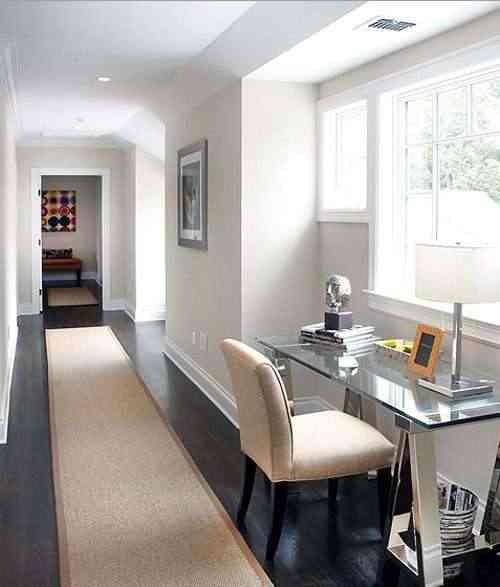 If you have not thought about it yet, this is a good space that we can take advantage of perfectly. In this image we can see how they have located a desk taking advantage of the hole in the wall. Think that if you have too narrow a corridor we will not be able to locate anything since this is a transit area and it should not be blocked.
But this time we have an ideal corridor to put our office without disturbing the passers-by. The desk is located right in front of the window. We always talk about lighting, light is an extremely important factor in decoration and even more so if it is for a study or work area.
Usually we will always look for natural light, but if we do not have a window nearby and it is a somewhat dark area we will place a table or floor lamp. In this way we can study and work quietly.
Make sure that the furniture is of a light and sober design. This will avoid recharging the area, obtaining harmony and visual cleanliness.
Details and transparent furniture will give lightness and dynamism to this area. In addition, light plays with transparency, forming exquisite and interesting shapes.
Look how the desk is made of a metal structure, with refined lines and sober colors ... we also see how the surface is made of glass or glass giving lightness to the environment.
With a small space we can not choose a very large chair, but try to be comfortable. So many hours in a chair is not good for us, so the more comfortable the better selections for our back ... certainly remember to get up, at least about 10 minutes for each hour of the clock.
As you can see, this is a great proposal for those homes that are not excessively large. Corners there are many, surely a small area we can find. The ideal will be to enable, organize and balance with decorative details and a pleasant aesthetic.
Seen at: 99model.com
Image: 99model.com and decofeelings.com