If you are one of those who like to reuse glass bottles to decorate your home giving them a new use, surely you will not hurt some tips!
When we go to decorate glass containers, glass bottles or small bottles, some steps to follow are always useful for the activity to have the best finish. The best thing is that before we start, let's think about what these jars are going to be destined for. If they are to house liquids, it is ideal that these bottles have a wide entrance mouth, this way it will be much easier to fill them in the future. Also, we will look for a decoration that does not spoil when wet, in fact, we will have to clean the container with soap and water without any problem.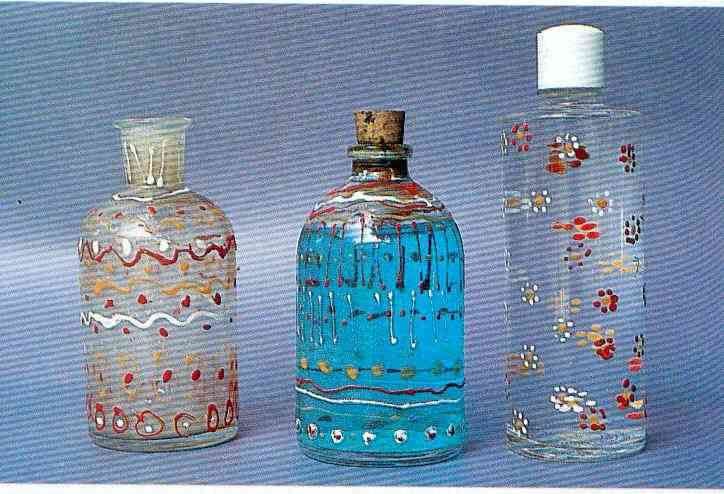 It is usually advisable to clean the bottle to be used very well. To be able to remove all the paper labels we will use a cotton impregnated in alcohol or solvent.
Painting for glass
If our decoration we want it to be our drawing, we will do it before with a thick pencil; with this we will help us to make the contour of the drawing. After this we can already paint the drawing with the help of a paint for crystals. Then let dry the bottle either outdoors or in an oven.
Finally if we want to add something more to our work we can do it with accessories such as ribbons, fabrics or Pinocchio paper, another idea is to put colored tampons. We can also fill the bottle with colored sand or shells ... here we have your imagination.
In this simple video tutorial you can also see step by step the technique of painting a glass bottle with some instructions that will be of great help with this craft.

A bottle turned into a lamp
Add some Christmas lights to an empty bottle, and so, just as you will have a lamp! The dim light will be ideal to have on the bedside table or other romantic atmosphere that you want to create.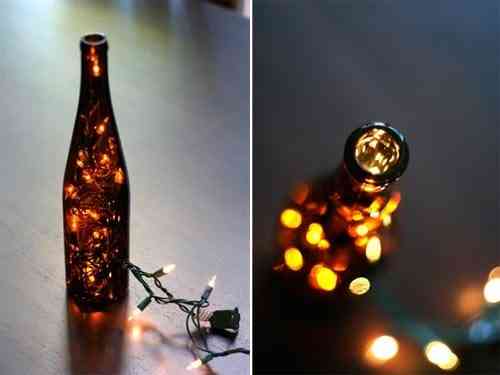 Bottles decorated with wool
Another easy solution for transform your bottles into beautiful vases is to use wool. Something as simple as impregnating the bottle of glue and surrounding it with wool is what you have to do to get this effect so funny, especially if you add different colors.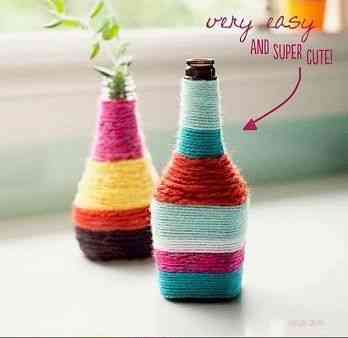 If you are not clear about the technique in this video tutorial, they will explain it step by step:
Bottle decorated with whasi tape
El whasi tape It is also a very practical resource in the world of bottle decoration. With this material you can easily paper your bottle with different reasons and even combine it with other elements of your home like furniture where you can use the whasi tape.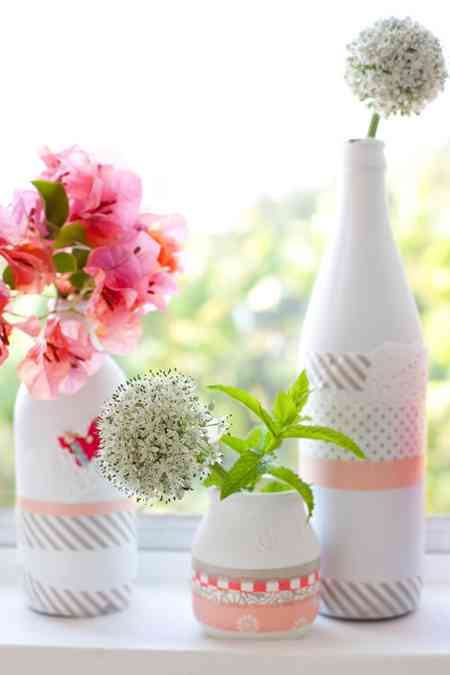 Bottles like jewelers
Decorate or not your bottles, you can also reuse them as jewelers. Especially to introduce your bracelets are a good solution to keep them neat and always in place. Also, with the same bracelets you will be decorating that corner of the room where you put them

How to cut glass bottles easily
A good way reuse the bottles of glass is cutting them to make vases, cups, glasses or other household items. Really practical!
However, many people think that cut the glass It is complicated and even dangerous. Nothing is further from reality, we leave you with a tutorial where they explain how to do it easily, simply and more or less safely. It is clear that it is not a children's game, but it is not so complicated either;)
In addition to glass bottles, all these techniques can also be applied perfectly to the decoration of Glass jars, very useful also for all these uses and many more besides they are very fashionable in interior decoration! So, you know, from now on you can recycle the bottles and jars of glass you have at home to make it more beautiful! A good way to develop your creativity and take care of the planet at the same time.
What do you think about our ideas for decorating glass bottles? Do not hesitate to write us if you have one more, we will be happy to see you crafts with glass bottles!