Friends the most awaited time of the year, Christmas, each time it is closer. With it comes the love, family and peace ... also the illusion and the Christmas gifts. The traditional gifts must also be decorated, so they will be much more beautiful.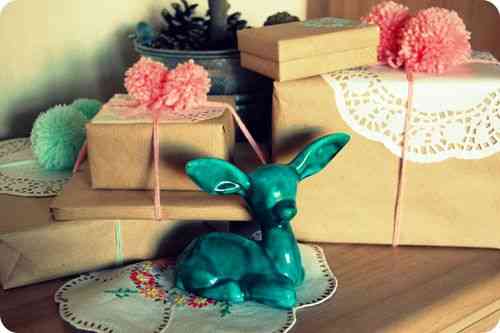 The details are what counts, wrapping our gifts in a beautiful paper and dedicating a little time to this activity is the perfect solution to make them divine. A special detail is to make a bow or a beautiful bow.
In addition to this we can also integrate some Christmas details or perhaps make some great pompoms of colors. If you want to leave the traditional Christmas bows, today we will make beautiful wool pompoms.
These will be perfect to recycle wool that we have at home and beautify all our gifts. If you want to change the look to your gifts and get a nice and original presentation we must gather the following materials.
Get different colored wool, scissors and a fork ... that simple! To begin with, the first thing we are going to do is wrap or roll the wool around the fork, just in the area of ​​the teeth of the fork.
Make several turns, so that one end of the wool is up and the other down. Then, just, you will have to tie the ends of the wool. Next, carefully remove the wool from the fork and insert the scissors. We cut the wool, without cutting the knot and voilà ... we already have a nice pompom for all our gifts. This technique is quite simple and we can do it in many different colors.
In addition to decorating our Christmas gifts, we can also add some pompoms to the rest of the home. Hope you liked it!