I will never tire of repeating it, which makes the decor of any house, stay, place or corner in special, in different, in personnel, in enchanting are always the small details.
That's why I bring you new ideas that you can add to your decoration in a simple way, without investing much money and that will give your decoration a new air, a special and charming 'something'.
If you do not have too much space in the room, replace one of the nightstands by a tray with legs. Yes, as you read it, a tray with legs. The secret of success lies in the tray you choose ...
This simple detail will offer you much comfort, since you can afford the luxury of breakfast, whenever you want, in bed and, in addition, it will help you to save space and make the most of it.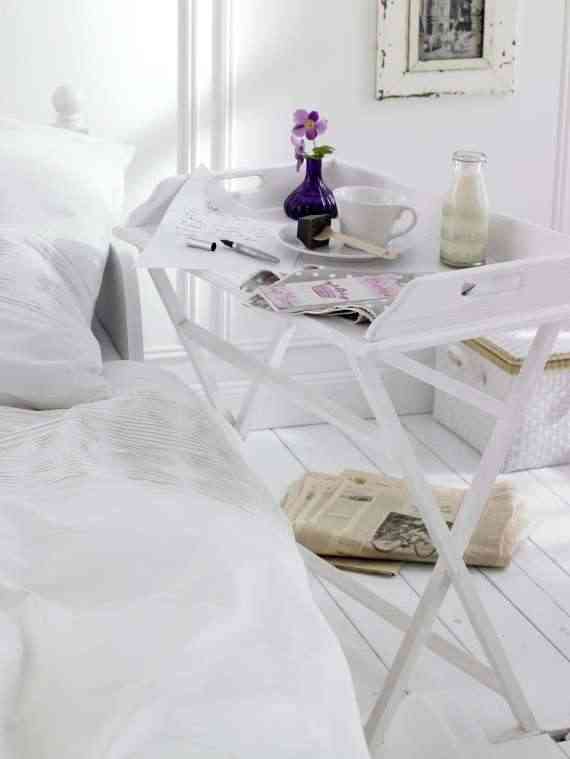 La kitchenis one of the spaces we most easily neglect ... For this to not happen and for you to enjoy it to the fullest, I propose a simple and flirtatious idea: I mean place Candles in the kitchen.
It is very common to place candles in the living room, in the room, in the bathroom, but in the kitchen it is not so ... If you also place the candles with grace, the result will be perfect. For this you only need some glass jars and some pasta (without cooking). Look:
If you live in a small house, you should look storage solutions in every corner. I propose to take advantage of the space that remains under the bed by placing a basket with wheels. This will allow you to have everything you need to have close at hand but you do not want it to be seen.