If you are tired of your kitchen curtain, today in Decoration 2.0 we tell you a nice idea to give a good country or artisan style, perfect for this stay. In a simple way and with a piece of fine canvas or batiste we will make these ingenious curtains.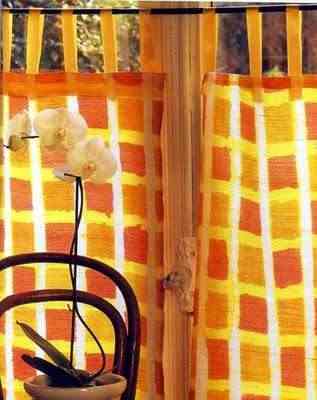 If you want to do it, the materials what we will use will be the following:
The first thing we are going to do is put paper tape forming squares. To do this, he places a bodybuilder's tape across the length and width of the fabric, leaving squares measuring about 4 cm in length and width. This is based on what we like, that is, we can put as big and small as we want these squares.
Once we have put all the tape, we will give a first coat of paint to the entire fabric, in this case in light yellow and then we will paint some squares in terracotta and others in orange.
Now, before the paint dries completely, take off the bodybuilder ribbons and you'll see how finished! Once removed and all dry, iron the fabric carefully and cut the tapes to make a purse and sew them on one end.
This is just an idea, this way we are free to combine different colors and varied shapes creating curious compositions. Find yours!