As you already know, in Decoration 2.0 We try to give suggestions, news and tips for the best interior decorations of our homes. On many occasions we tell you that it is not necessary to spend large amounts of money for the renovation of the decoration; sometimes with a couple of touches is enough to renew an environment
In today's article we want to emphasize in the coatings of our bathrooms or kitchens. The tiles can also be painted with specific products whose finish is perfect.
On many occasions we put aside a project like change the kitchen tiles, because of the purchasing power. But have you ever thought about redecorating yourselves with some paint?
Using our imagination or by making some templates, a wall of smooth tiles could become a magnificent canvas where you can paint.
If we do not like the color we have in the tiles, we can always give a hand of white or the color that we like the most, and then paint the image we want.
If you like flowers you can make a beautiful freehand composition or simply with the so-called stencil technique.
Also do color combinations or stripes; we can paint the area above one color and the one below another.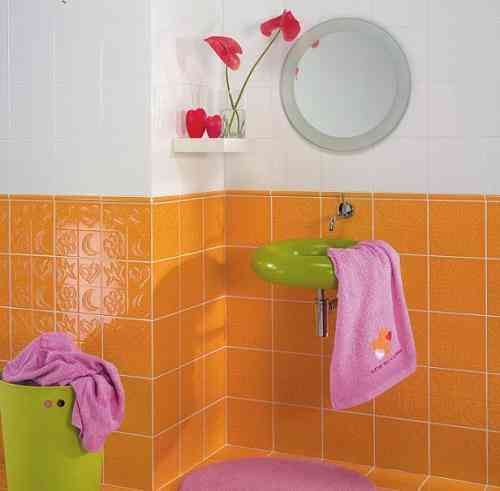 There are well-known brands in the market whose special paint for tiles can be found in many colors and different finishes such as matte or gloss and waterproof.
Depending on the environment we wish to have, we will choose the colors. Stronger shades like reds or blues will be reserved for modern environments; the cakes to give that romantic touch and the gray tones or beigs for a more sober and elegant touch.
Finally, if we want to paint the bathroom tiles, remember that there are special products to also paint the furniture of the same. If you can not renew it, you can change your look.