Dedon has had the collaboration of the designer Philippe Stark to create this collection of outdoor seating, making the same model with different variations for each taste and need, and has called Play (play in English) because it states that the game is an expression of intelligence, which every human being has .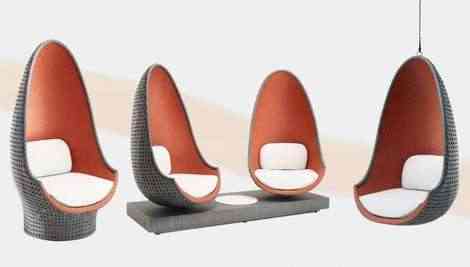 It is a fun egg-shaped creation, or semi-egg, made with a combination of molded polypropylene and fiberglass, which has been given the characteristic look of the Dedón fabrics. On the outside it has been used a sober gray color that contrasts with the vibrant orange of the interior, creating a youthful, fun and cozy at the same time.
It consists of three models: floor chair, hanging chair and a couple of seats on a platform that can be turned to comfortably converse facing each other or watch television.
Further information: Dedon
Vía: Trendir