Do you want to learn how to make this fantastic candle holder? Simply adding a candle and some color we have recycled this small glass, turning it into a beautiful candle holder.
If you have small glasses at home that no longer serve you, you can always resort to this simple recycling and you will see the result. The materials that we will gather will be the following:
The stencil with the drawing that you like - in this case a nice butterfly -

Glasses.

Glue.

Masking tape.

Gold paint 3D.

Stained glass paint of different colors.

Soft hair brush
First we clean the glass well and then take the chosen template. To transfer the drawing to the glass, what we do is to adhere the template inside it, locate it exactly where you want the drawing to go - but always inside. For this we will help with the bodybuilder's tape.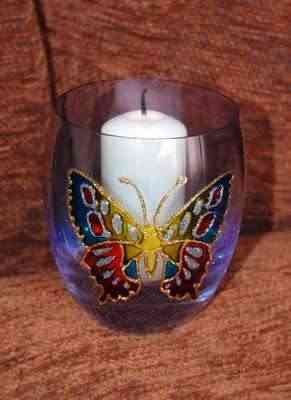 Now take the golden paint in 3D and outline your drawing. Once applied let dry very well. Finally we will paint our butterfly with stained glass paint. Help yourself with a soft hair brush and distribute the paint well by adding small amounts.
Once dry we can decorate our favorite corner. Make as many candle holders you need ... we can also give other uses for example as a toothbrush holder.
Finally, here is the template for this work!