There are so many materials that we usually have at hand and that we could use to do so many things ... However, we do not even realize, we do not pay too much attention to them.
Today I'm going to show you that vegetables are not only used to eat, they also serve to decorate. And, I'm going to show you with a craft. A craft with which you will learn how to create originals cup holder and place mats using legumes for that and little else.
This is the result: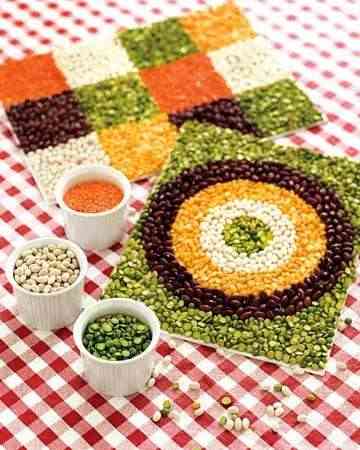 Originals, right ?.
If you want to decorate your table with similar ones, take note.
These are the materials what are you going to need?
Felt fabric
Scissors
Legumes (of different types)
White glue
Varnish
And that's how it's done step by step:
The first thing you should do is decide the size, size and shape you want your tablecloths and cup-holders to have.
Once the size has been decided, mark the felt and cut it out.
The rest is as simple as sticking the legumes on the felt.
By using different types of pulses with different colors you can create mosaic-style designs, like the ones you see in the image.
To make it easier for you, first (with a pencil or pen) make the drawing or the shapes you want to make with the vegetables on the felt. Then you will only have to decide where you will put each type of vegetable and paste them.
Inspire yourself in the designs of the photograph and, if you can not think of anything better, copy them.
Once you finish sticking the vegetables and the tail is dry, apply a varnish. With the varnish you will be able to give shine to your cup-holders and tablecloths and also, you will protect them.
Easy, economical and original.