At present we have many options to pave the soil of our garden beyond cement, tiles or grass, such as concrete with imitation stone or wood. There are already many companies that have received this idea with great success and one of them is Press.
It is a company from Numancia de la Sagra, Toledo, which devotes its activity in the manufacture of high quality products of pressed concrete for building and civil works. He recently launched his new product on the market: Fabistone, an innovative pavement with 6 models that imitate all kinds of woods and stones.
These six models are: Secular, Granitus, Teak, Montagna, Nature and Travertine, each with its individual characteristics and in different colors but all focused towards the same goal: to make the exterior more accessible and comfortable, avoiding falling near dangerous areas such as the pools, low burns the feet of the feet and high resistance.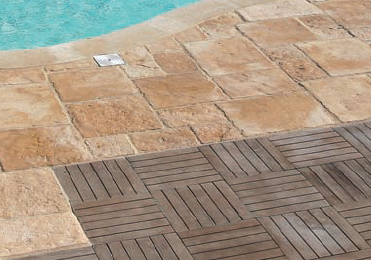 In short, it allows you to enjoy the decorative advantages of stone or wood, while at the same time providing the strength of concrete. Fabistone is a floor of 2,5 mm thick, hydrogenated to protect it from the harmful effects of moisture and colored in bulk (monolayer), in addition, its manufacturing system offers great resistance to compression and frost, and is very simple to clean and maintain.
To all these qualities we must also add its ecological value, since Press manages its own waste, favoring recycling. Without a doubt, a very important option to consider.
Further information: Press