Good morning to everybody! Today in Decoration 2.0 we will love to present you a great proposal to help us with the decoration of our rooms. Now with the heat there are many people who decide to change the style of their home .. of the kitchen, the bedroom, the living room .. if you are one of these people and you are looking for some decorative solutions.. today we propose you Projectdecor
En projectdecor.com we can create the environments of our dreams simply by dragging! And is that the web is the simplest .. we just have to create a project, which will be the stay we would love to decorate.
The best is that Projectdecor it helps us in a quick, simple and economic way to solve those little doubts that we might have when decorating some rooms.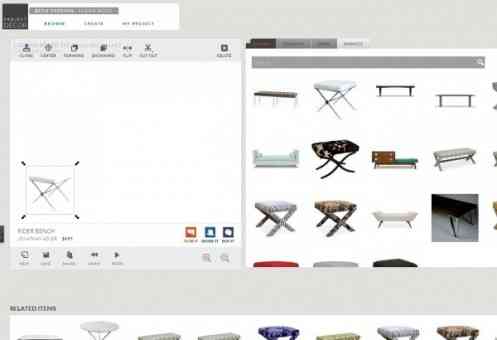 Within our project, which will be different environments .. just simply click with the mouse and drag the decorative items and furniture you want on the stay.
You can drag for example lamps, furniture of all kinds, paintings, carpets, accessories ... in short, decorative items that will help us inspire us to create.
Think that we can customize the project background, in this way we can put and remove colors at will to test a wide range of possibilities for our environment. The funds that we put and the furniture that we install, will be of real manufacturers ... in this way we will know exactly how we would stay.
Make any environment you want, you can even share it with other people, as with your friends ... in this way you will see what kind of project you like and think about it. Our project can also be classified so that people who look for it will find it very easily within the public directory.
Right now projectdecor is in its beta phase and as such right now what it offers us are invitations to make us to your website .. just enter projectdecor.com and enter your email .. once you do, they will send a message to your email saying that the invitation will arrive soon and you will be able to access all the components of the web.
It has never been so easy to decorate our rooms with Projectdecor.