Sliding doors are a good idea to save space in places where meters are scarce and can be given many more uses than we know. For example the one that is appreciated in the image.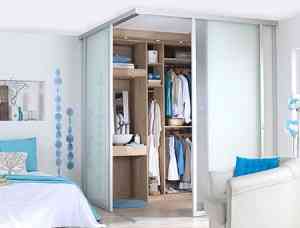 It is a dressing room of the French company Kazed created in a corner of the room that closes with two sliding doors. They can be open or closed, but open they give sensation of greater space and closed they conform a wide and comfortable dressing created without needing to raise partitions.
It is not necessary to go to France to get sliding doors since in Spain we can find many companies that make them and of very different types. It is only a matter of finding the one that best suits our needs and our budget.
Vía: DecoraHOY