When we think that an object can no longer have more uses, suddenly we discover one more and really surprising. Surely if we had to guess what material these puffs were made of, it would take a long time and we would not even get it.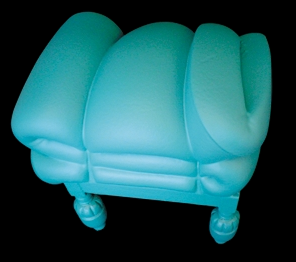 What we see in the image is nothing but old mattresses with bases of different antique chairs. The designer Frank Willems He thought about this project when he discovered that mattresses could not be recycled because their fibers clogged the machines, which went directly to the landfill.
He thought about giving them an alternative use and that's how the collection was born Madam Rubens. What he does is join the old mattresses to old chair legs and tie both parts together so that they can not be separated. All this is done with maximum hygiene by applying a hygienic spray that at the same time gives it a great resistance to the structure. After this the next step is to paint it with vibrant colors that are what we see in the final result.
On the author's website we are sent to a personal address of the author to know more information, such as the price, which we estimate will not be economical.
Further information: Frank Willems
Vía: Freshome