Un calendar, in any house, it is an essential object ... And, there are all kinds, but whatever the case, we tend to hide it, no matter how big, small, more or less beautiful; at the end always ends behind the door or in a drawer.
Today I propose to put an end to this custom because a simple calendar can also be a decorative element ... In addition, I propose that whatever the format of your current calendar, change it. Make of your wall a calendar.
If you have a somewhat empty wall, if you are tired of the typical pictures or if you simply want an original 'touch' in the decoration, turn your wall into a calendar.
Below you can see some ideas:
If you paint the wall (or part of it) with blackboard paint, you can design yourself your own calendar month to month or week to week ... It is a good option to not get tired of the design or to customize your calendar depending on your needs.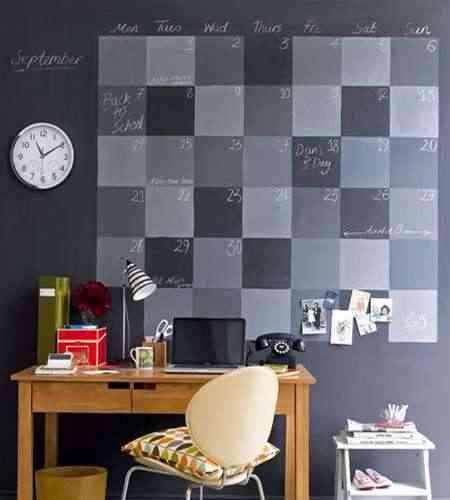 Although, if you do not want to paint the wall, you can also write on it a blackboard and turn it into a calendar.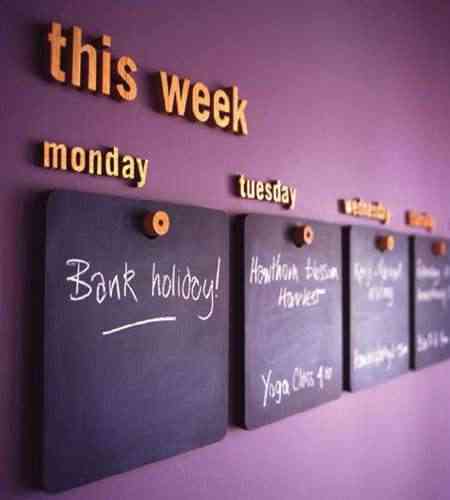 There are also stickers that can work like blackboard. This way, if at any time you want to remove the calendar, you will only have to take it off and it will not leave marks or holes. The only thing you have to take into account when selecting the material is that it allows you to write and erase.
Besides being an idea that has a lot to offer the decor and what results is totally customizable, it is also practical and comfortable.
In the office, in the kitchen, in a nursery, in a study or work area ... Put a calendar on your wall!