Original and beautiful idea seen in conencanto.blogspot.com for the decoration of that special corner of your home. Recycling is one of the best options we have and a good technique to offer a new life to furniture and objects that have become obsolete.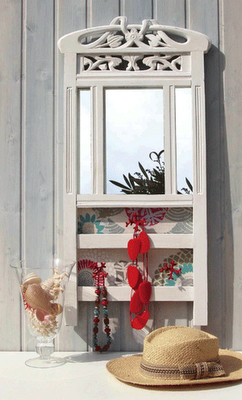 On this occasion we see how simple this proposal is, with only one chair back, a decorative bookcase has been made.
If you have chairs that you can not fix anymore, maybe your backs will help you to create this decorative piece. The only thing we will do is to sand the wood and repaint the color we want. In this case we see the backrest painted neutral white, elegant and beautiful.
Once the back is painted, we will give the necessary layers, let it dry well and finish with one or two coats of clear or colored varnish.
When the piece is completely dry we proceed to hang it in the room we want. Today we can see how a simple idea can illuminate a corner of our home.
Photo: conencanto.blogspot.com