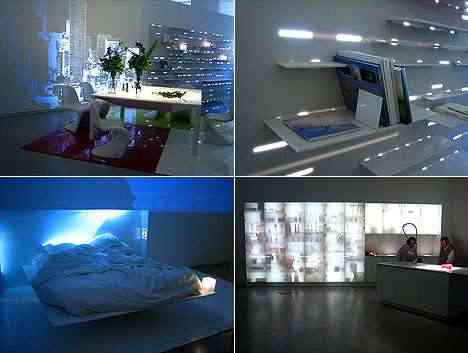 The futuristic style of decoration has its antecedent in the movement of the same name emerged in the first half of the twentieth century, founded by Marinetti, where it is postulated that the technology is more beautiful than the artwork.
Speed, irrationality and instincts are the watchword. The fragmentation of volumes and lines are some of the objectives.
This trend manifests itself as a need to leave behind traditional styles, to look for the technology and comfort that new materials and designs can offer us.
This decoration includes the entire line of state-of-the-art appliances, to be complemented by designer furniture and artistic decorative objects.
The futuristic decoration style proposes the use of new materials, colors and new designs, according to ergonomic and technological criteria. This revolutionary proposals allow to give new shape to the decorative elements of our home.
Spectacular and daring designs, break the monotony of traditional decoration, to offer totally new pieces, which are located in uninhabited spaces, free of ornaments.
Metals such as steel or aluminum, plastic materials such as methacrylate, polycarbonate, are chosen to build decorative pieces and futuristic furniture.
The bright colors and fluorescent, take place in this trend, applied to objects designed under the principles of ergonomics. The simple lines devoid of all ornamentation, are the common denominator of this style.
The ambience of the interiors decorated in futuristic style remind the interior of spacecraft, with metallic surfaces and much glass, plastic materials and other decorative elements.