For some children the shower is one of the most feared moments of the day. They cry, kick, they do not like to have foam in their eyes, they hate the water on their face, etc ... not everyone, but I have seen many who really get very nervous with this moment of personal cleanliness.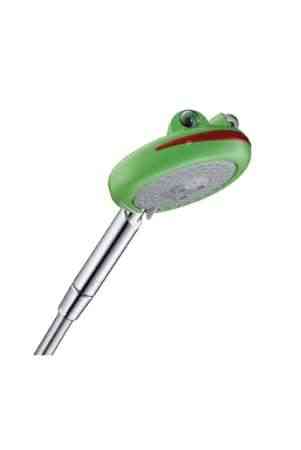 For this reason it is very important to have elements that can distract and make the moment more bearable and enjoyable. Example: this signature shower Hansgrohe Frog-shaped that moves the eyes and croaks. Inside a fun case is the hand shower Raindance, high quality and advanced technology, with AirPower technology to mix water and air, expanding the size of the drops but without increasing the consumption of liquid. A variation of the basic model of Raindance for the children of the house.
In addition, three types of jet can be selected: RainAir (fine rain), WhirlAir (three spinning jets) and BalanceAir (both proposals).
Further information: Hasgrohe