In today's article we will show you how to make a nice desk organizer what will we do with recyclables. This activity is ideal to work with children.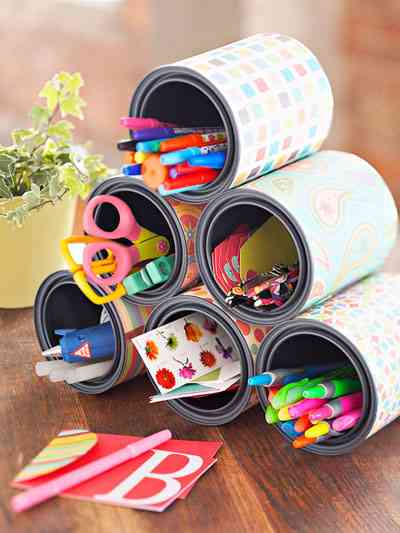 The materials that we will need will be 6 latas, the number will depend on how many departments you want the organizer to have. Choose carefully the cans that you are going to use, for example those of painting will be the perfect ones because the edge of which they are provided is the solution to which what we have located inside falls.
The first step will be to clean the cans well, wash them with soap and water .. then dry them well. Remember to remove the labels or stickers they have.
Now we choose a matte color and paint the inside of the cans. Choose the colors that you like best. The next step is to line the outside of the paper. You can buy self-adhesive paper or stick it with a little glue and water. If you want you can use different colors and papers for the cans.
Finally we will group the cans by joining them with a little glue. On this occasion a pyramid has been formed, choose the design that you like the most.