Decorate, sometimes it can be so simple and so cheap!
Here I show you two practical ideas to decorate without the need to invest a single euro. The only thing you have to do to decorate with these ideas is to recycle two very simple elements that you usually have at home.
Do you have some old socks or some old stockings? This will be enough to create a beautiful decorative element, specifically a vase. Well, you really need the sock, a container and the flowers, of course!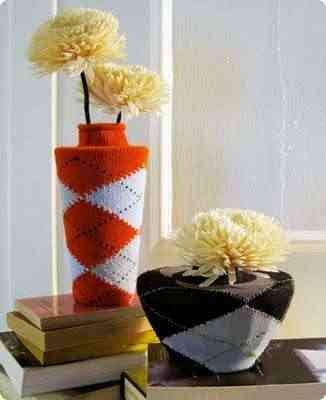 The result is beautiful and charming.
As you can see, it is simply a matter of selecting a container and inserting it inside the sock.
What about the sock, you can hide it inside the container or, as you can see in the vase with red sock, if the excess is not too much you can show it.
If you have at home a workspace or if you have a child or youth room, you can put this idea into practice:
It is as simple as it looks. All you have to do is recycle some cansIn this case, three have been used. Remove the label and place the cans on a thin metal base and then attach the latter to the wall.
It is a decorative idea that will help you maintain the order in work areas or in children's and youth rooms and also avoid that pencils and pens are lost.
Note that the cans, usually at the top, have a sharp edge. To avoid unnecessary risks and accidents, apply hot silicone or any other product that seals that area, avoiding cut areas.
What are you waiting for? Run to find your own socks and your cans!