For some time now I have not proposed any tutorial, maybe that's why I want to show you what I'm going to show you today: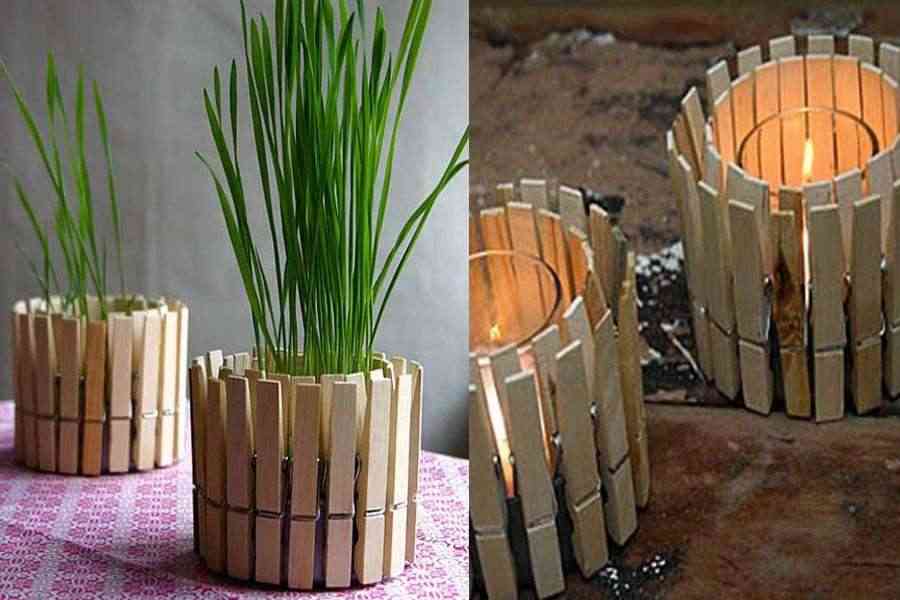 As you can see, it's about a graceful planter that can perfectly fulfill the role of candlestick. It is possible that this is the reason why I liked this idea so much or, maybe in addition to its functionality I was struck by how easy it is to create this 2 element in 1 ... Although, here are both the reasons why It has seemed a most curious and original project.
Do not worry, you will not have to invest money. On this occasion, we are going to recycle ...
And what we are going to recycle is:
Canned food
Wooden clothespins (which we usually use to hang clothes)
You're just going to need these materials, nothing more.
And this is what you must do to get your pots or candlesticks:
Yes, it's as simple as you see in the image. You just have to place the tongs around the tin can until it is completely covered.
If you wish, you can paint or varnish the tweezers to fit better with your decoration.
Now that Spring has arrived and we begin to prepare the terrace for the days of good weather that are to come, do not you think that these "flowerpot-chandeliers" are ideal to place on the terrace? By day you can use them as flowerpots and place your favorite flowers in them and at night, you can achieve an intimate atmosphere if you use them as a candelabra.