Restoring furniture will give us curious solutions with which to renew the look of our home. In this way we preserve and praise the life of furniture that we do not use or think of throwing away.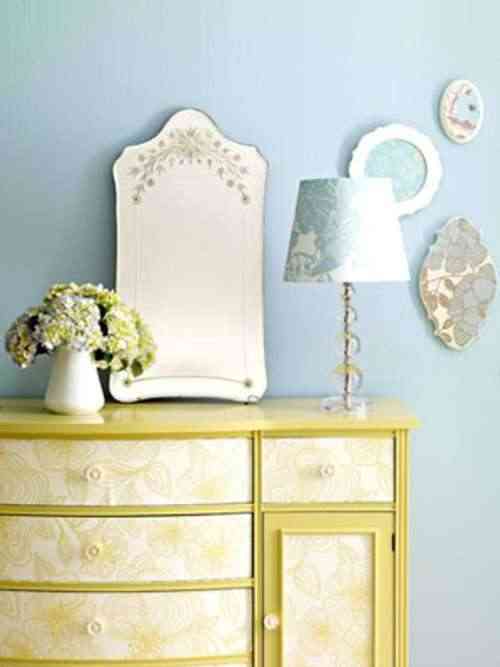 This time and in just a few steps it has been achieved restore this beautiful chest of drawers located in a bedroom. Think of the materials that must be used in the restoration or renovation of any furniture that interests you.
In this case we have used resources such as yellow paint, wallpaper or gift, which will serve to upholster some areas of the furniture. In addition we will need scissors, a ruler, sandpaper, brushes and universal glue.
First the furniture has been cleaned and emptied, completely. Then the drawers are removed. Remember to make sure that the furniture does not have rotting, this is seen when finding sawdust and small holes that seem to be made by points.
It suits us to sand the pieces well. Sand the entire surface and then we can apply the paint we want. Make the layers that the furniture needs so that the color covers well.
On the other hand, if we do not want to paint it in another color it is enough to use a clear or colorless varnish and let it dry very well.
Once dry, we have proceeded to upholster the drawers and part of the furniture. For this we will choose a nice paper -compired or remains of those that we already have-, with patterns that we like to apply. Remember to make the composition that you like the most. You must measure well before cutting the paper.
When we have upholstered the areas that we want. For doors and drawers we will buy or recycle other furniture, some beautiful handles.
Via: hogartotal.com