Have a loft or a loft in the house it's a luxury. But they are not always well used because we have not found the solution to climb them without altering the space of the room where their access is. With the retractable stairs everything is easily solved and when they are not used or seen. I tell you its main advantages.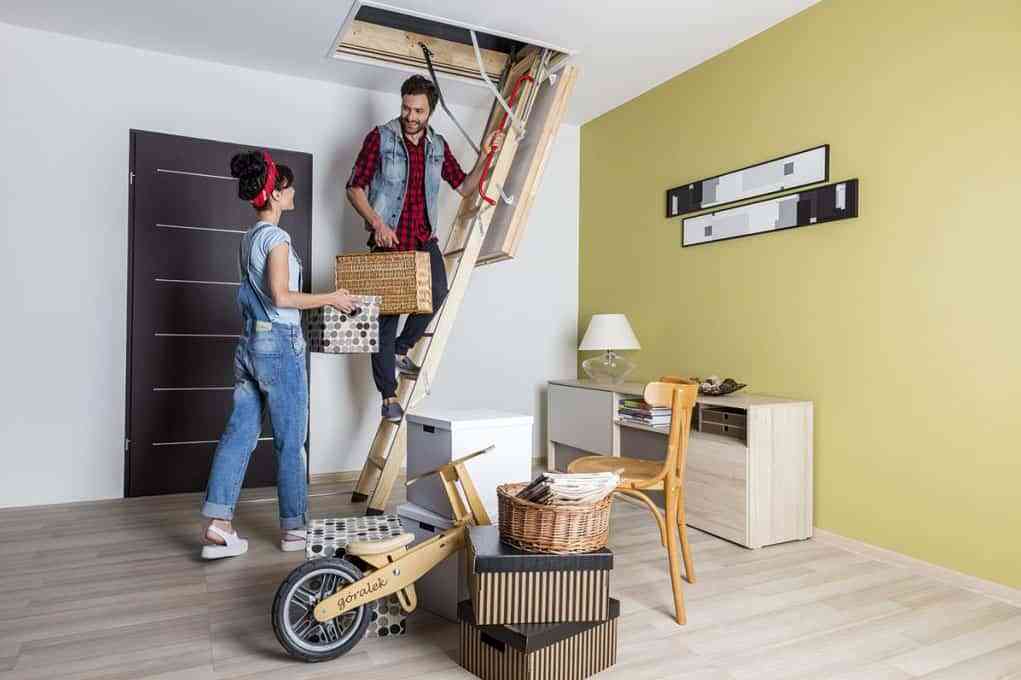 The retractable stairs They are a kind of folding laddersconceived to access lofts, attics, storerooms high and attic areas. Its main virtue is that they hardly occupy space, and that when they are deployed to go up to such areas. If we do not need them, we can leave them completely camouflaged in the ceiling or the wall where they have been installed.
Save space with retractable stairs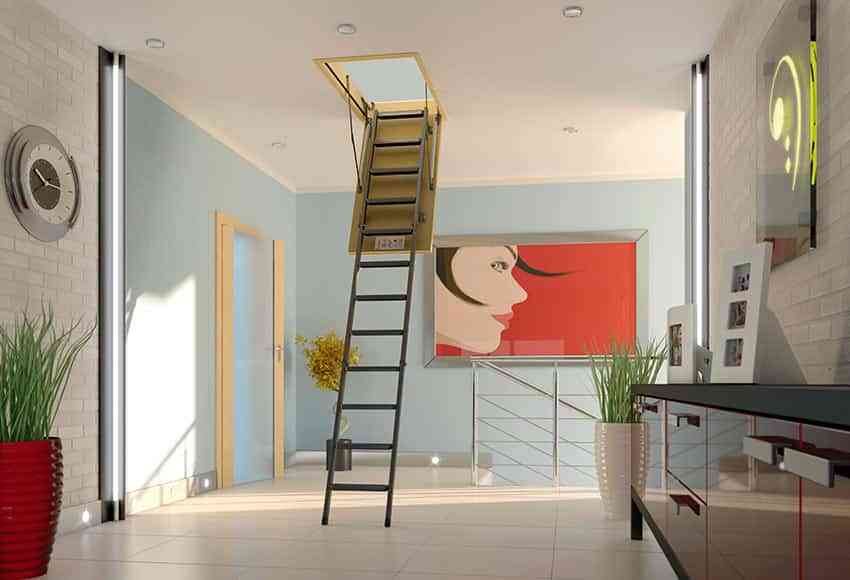 Of course the retractable stairs are the ideal alternative to access spaces where it is impossible to climb without a ladder to be in another level. And especially when it comes to apartments or small flats where it is not comfortable to be putting and removing a portable solution. In addition to stealing meters to the room in question, it would alter its distribution.
These structures are a very successful functional proposal to place at any point where we need to go up to that attic or unused loft. Suddenly we can enable them for a certain use. Maybe a generous storage area. But first it is convenient to familiarize yourself with the retractable stairs. To know how are your designs, what they usually occupy and where can you put. They are extensible, folding or retractable elements and they remain hidden while they are not used. All an invention to save space.
Now, it should be noted that retractable ladders are different from conventional ladders in their inclination, something more pronounced. Is it so designed to be used in a timely manner. That is, we do not spend our lives going up and down their steps. And they need a certain amplitude when it comes time to unfold the system hidden in the room. They occupy very little, yes, but they require some vertical space to fulfill its function.
On the ceiling, the wall or on the terrace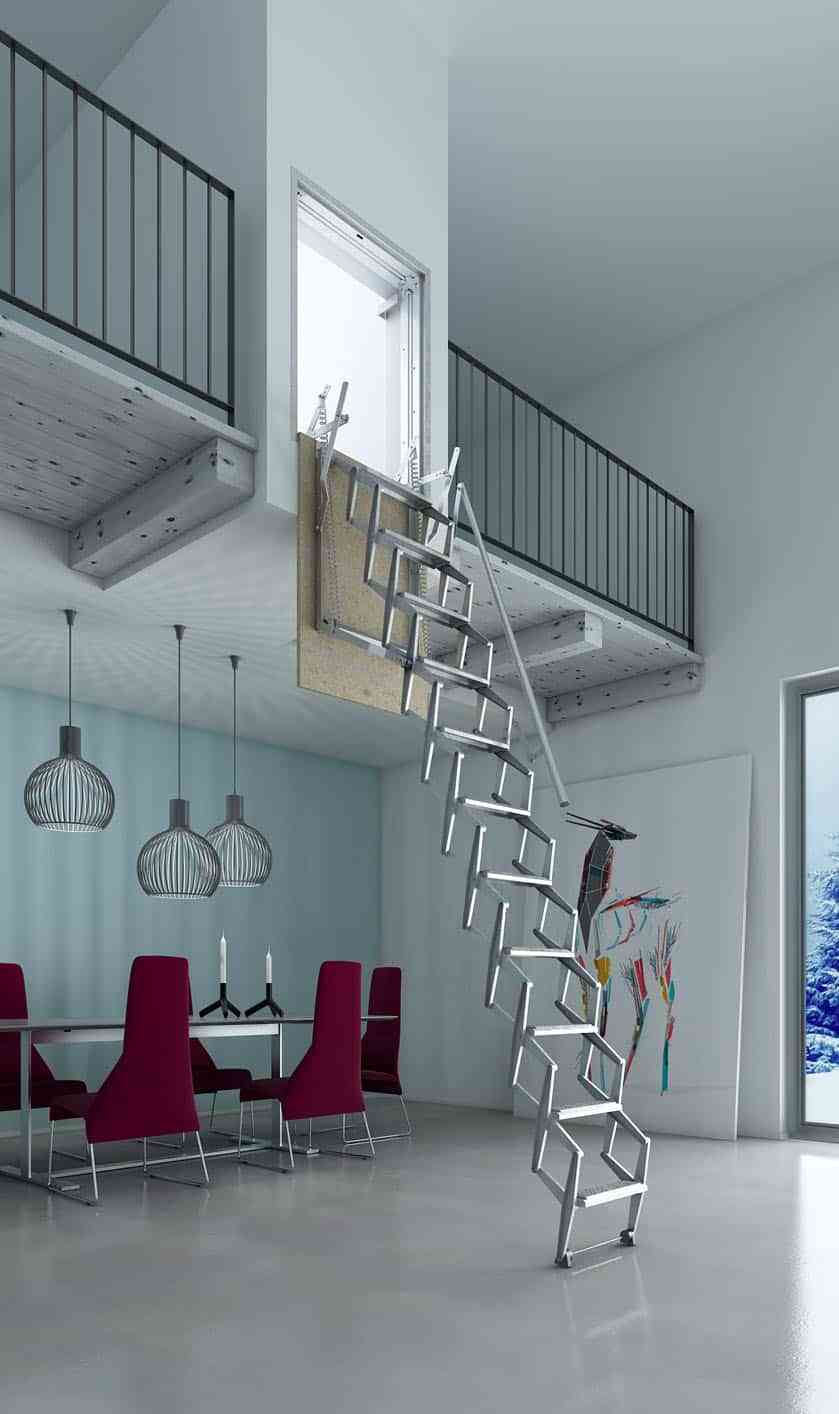 When we think of retractable stairs, the normal thing is to imagine an access on any roof of a stay, but not in a wall or on a large partition. Y rather less that said structure can adapt on a terrace to access the roof or maybe a little accessible viewpoint. Well, these elements are versatile designs and capable of being installed in any of them. Surprised, right?
So, it's a matter of assess the measurements of the hole available and depending on it look for which retractable stairs we are most interested in, no matter where you are. The most frequent models are the roof models. Its about wooden or metal structures that allow to communicate one level with another from the roof of a room, like for example a modern receiver. If we do not want to leave them open on the lower floor, simply fold them so that they disappear from our sight.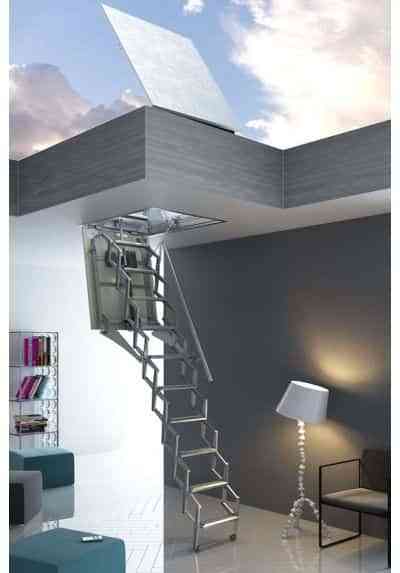 Another modality of retractable stairs are those that give access through a vertical opening because the hole is in a wall. Once placed your image can look like a small door that allows us to communicate with the other space with complete comfort and security when deploying them. By last, we must not give up using them if we look for a solution to go out to an outside space of home, from a terrace to roofs with vegetable covers. Although for these cases more complex specific systems that support the weight and structure of such covers are required.
Designs that are integrated into the decoration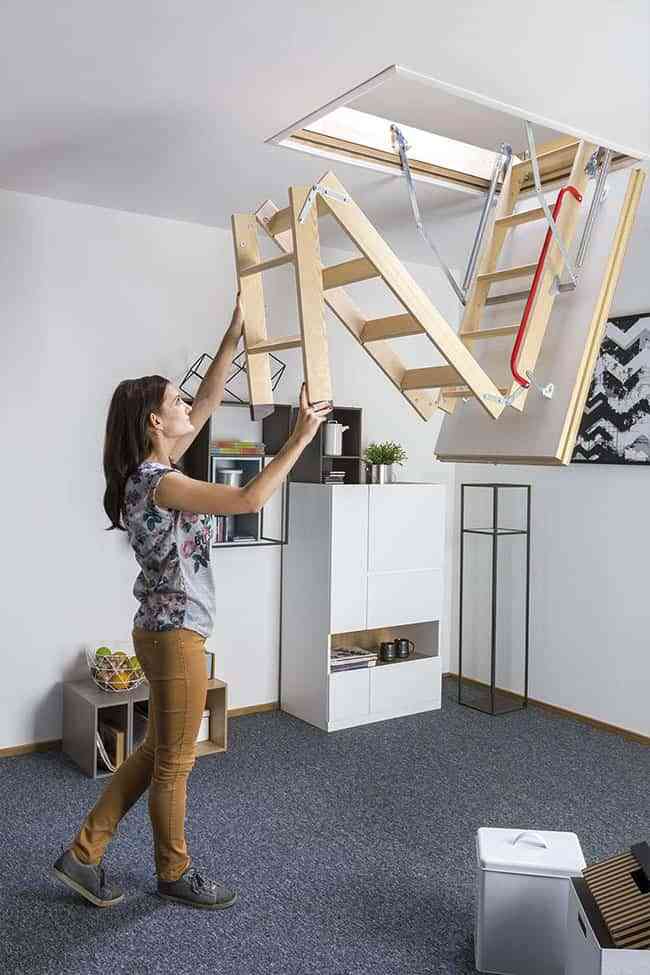 At this point of the post it is clear that retractable stairs can fit us wonderfully. They occupy the minimum, they hide so as not to be seen and they are not anti-decoratives your designs They incorporate high quality materials that aesthetically do not clash in environments. The wooden models are the warmest and easiest to integrate. They can be the most interesting option if we are going to use retractable staircases frequently and for example have been installed in an open and modern lounge, divided by mobile walls.
Other systems are made of aluminum so that its structures are lighter. They are the most indicated when we decide to give our ladders retractable more occasional use. And if it is about finding a solution that is resistant to high temperatures and impacts, it is very likely that the polyamide and fiber models are our best choice.
There is much to discover about these retractable stairs that solve us go up to almost inaccessible spaces. As the fact of knowing the recommended width so that it is comfortable to move in them: between 80 and 90 cm. Or the ideal height that there should be between steps and steps, if possible that does not exceed 18 cm.
Automatic versions and other opening options
There are still more surprises to be unveiled on the retractable stairs. Among them a fundamental one is the type of opening that we can choose when extending or unfold. If we had thought of a single system, nothing could be further from reality. In the market we can find different modalities that should be known in advance.
From retractable stairs sliders, to designs that unfold by sections, bellows type, o those that are presented with automatic opening. No doubt the latter can be the favorite because they make it possible to handle them without having to make any effort. Its electric motor, operated with a remote control, allows you to open and collect them in total comfort provided there is a power grid connection nearby. As you can see, retractable ladders can make it much easier to climb those high-rise spaces in your home.
Do you think the same?