One of the most spaces evolved and dynamic modern decoration is undoubtedly our kitchen, favorite place of stay, is for its importance in everyday life that like the bathroom can still be applied nuanced classic features on modern compositions, achieving unique decorations that return us in time to the stage of our childhood, enhanced by the iundeniable sensory character that the aroma of the kitchen proposes.
That is why we will focus on those confections or pieces that seek creativity and the avant-garde always keeping in mind the elements that characterized the kitchens of our childhood but achieving that they adapt to this new sense of aesthetics and functionality that the modern life conditions and promotes.
ABC1 incorporates these concepts and more developing a line of refrigerators that propose to return to the past but of a very decorative shape, these refrigerators have all the characteristics of a modern refrigerator due to its efficiency, low consumption, but faithfully imitating the characteristics of the popular appliances during the 70, we can find them in various shades and arranged with graphic trends super attractive, modern and youth.
But if in truth the refrigerator does not seem something exclusively retro, Portello Street a company from Madrid developed a range of refrigerators that really imitate the first models of refrigerators that were marketed in the world, with well-defined characteristics these refrigerators are true decoration jewelry, composed by a very attractive aesthetics but modern efficiency.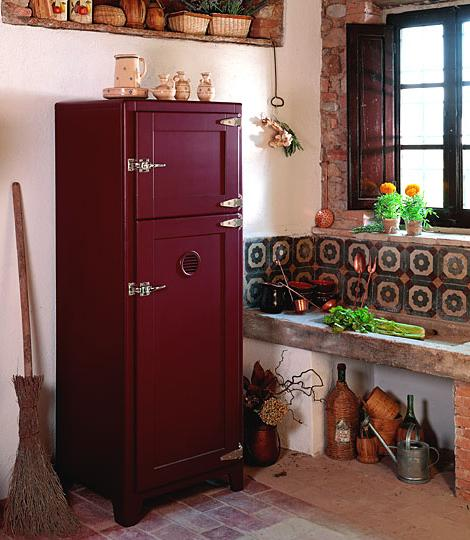 Without doubt another element avant-garde and classic at the same time can be the dressers, these have a very marked evolution, legs were used in iron, wood, low, high, worked, turned, karmic, or noble wood in its purest completion, Splinter Works, It proposes a setback in time dedicated to the materials that make up its pieces, where wood is the prevailing raw material, but far from the classic sideboard is its implementation, we speak of a sideboard in the shape of a sphere that is mounted on our wall and while it remains closed will be the object of all eyes to later become the most comfortable and necessary workspace in our kitchen.
Regarding the coatings we will have many options in comparison with those that our parents showed, especially in the efficient imitation of expensive materials, in terms of development, imagine combinations betweenwall coverings in Pvc, stone imitation, easy to clean, and very decorative, matizaos with Pvc pavements that can imitate several pieces which undoubtedly facilitate the highlight of the pieces, and with a few simple ornaments will achieve an exquisite countryside appearance, select the Pvc for its technical capabilities, remember that the kitchen is always a complex place for cleaning and that it demands a lot of time, with these solutions technically it will require a steam engine to leave yourbacteria-free and gleaming spacio, an beautiful wooden lathe It can become your central island combined with the pavements and the rest of the pieces.