When starting a decorative project we can choose two clear options, one of them is to adapt to the original morphological arrangement, optimizing its characteristics, or highlighting them by means of small details, or making structural changes that, although they will cost, prepare and predispose completely the environment for the creation of a complete work adapted to our needs.
Within these transcendent changes we find the wall coverings, which evolved remarkably in this last time and perhaps we are in the stage that predisposes the greater variety of products for our election.
In the not too distant past, the only way to change our coating It was to invest large amounts of money and time in ceramic pieces or conformed in other materials, expensive in a unitary way and complex to install, another available version we found it in the development of wallpaper, for which we required a wall with some inevitable previous characteristics.
At present all this is replaced by the plastic polymers, we are talking about large pieces that can fit into themselves with a very simple structure or lacking it, the polymers or plastic plates they do not require a work for their installation, and can arrange them without needing to think that their investment will be lost when they decide to move.
They are resistant, easy to clean and are not affected by causes such as humidity, with respect to aesthetic possibilities, are highly customizable by the industry and find coatings that mimic finishes rustic in stone, classic, avant-garde, or completely purified.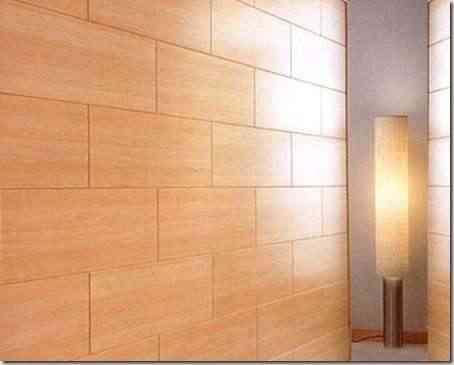 Undoubtedly we are faced with a remarkable solution, in the same way that predisposes cork walls, they imitate faithfully the wood in texture and aesthetic characteristics but they are also made up of plastic polymers, which allows a simpler installation and become more efficient coatings, in the case of traditional wood, regardless of its type, it undergoes changes due to temperature variations that require a so-called joint, skirting board or skirting board, which fulfills the technical function of hiding a vital space of expansion and contraction, preventing it is deformed.
In turn and for those looking for a family touch, Found false columns in pvc, which simulate heavy braces in noble woods, a great idea that can be combined with stone imitation coatings, to complete a remarkable aesthetic, the bathrooms on the other hand could not have wood coatings due to its capacity to absorb both vapors and liquids, therefore the Plastic polymers present a whole range of new aesthetic possibilities.
Some creators with a wonderful aesthetic capacity, as with the artist Jennifer Prichard, offers completely unique coatings, in this case made up of hundreds of flowers in porcelain, strictly artistic worthy of admiration regardless of the environment where they are available.