Until now in Decoration 2.0 We have seen many ways to save space in terms of bedrooms and beds are concerned, but designers every day explore new possibilities that surprise us even more if possible.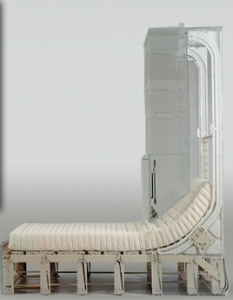 This time it is a bed hidden in the wall, furniture or anywhere, but its peculiarity is that the mattress, once collected, is fully vertical, saving space and favoring ventilation.
It uses a unique German technology system on the market that has marketed the Confortalia Group, a customized design that the company can adjust to the needs of our house. Individual or marriage, in the room, in the living room, in a piece of furniture or on the wall.
Its structure is composed of beech sheets supported by flexible rubber ball joints that provide comfort. It is collected through a mechanical system that is operated through the control so that you only have to stretch the sheets and press the button to make the bed disappear. The mattress is made of cold foam, recommended for people with back problems.
The system is useful at home where space is not abundant and in studios, but it is also a suitable system for hotels, hospitals, offices, etc. Its price is approximately 3.000 €.
More information: Grupo Confortalia
Via: Decohome TV