Sobriety, elegance and versatility are the characteristics of Varaschin's latest proposals that allow us to place these creations inside or outside our homes.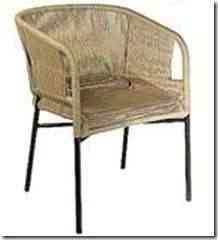 The Swedish studio Anki Gneib designed for the Italian brand an armchair and a table that for its versatility attracted the attention of avant-garde decorators.
The materials and finishes chosen for these two proposals, the Cricket chair and the Deer table, make them optimal furniture options for indoor and outdoor environments. The same as saying that we can use them in our dining room as well as in our winter garden.
In the case of the Cricket chair, its aluminum base and the leather or synthetic rope covering, are specially prepared to face the setbacks of outdoor environments, added its "clean" and sophisticated design are the passport necessary for the entry of this chair inside our houses.
The same happens with the Deer table, with a chromed steel structure, ultra-light and resistant, and with a lacquered glass or marble cover.
This is the concept of furniture "in-out" in which sits the basis of the philosophy of the most recent collections of Varaschin.
Already in Milan, in the last edition of the I Salon, International Furniture Exhibition, the Italian brand had surprised with a collection entirely focused on that concept of fusion between the interior and exterior spaces of our homes.