For lovers of candles and Love, today in Decoration 2.0 We teach you how to make a simple centerpiece.
It's coming Valentine, and with the beautiful gifts, romantic dinners and ... well what you most want. If you have planned to dine with your partner, for this day, decorating the table has to be a primary objective.
An easy and quick way to do it is to use some candles, we can buy them in the form of a heart.
But the candles, alone at the table, can be somewhat unprotected and boring. To brighten up the atmosphere or to do it more romantic let's buy floating candles.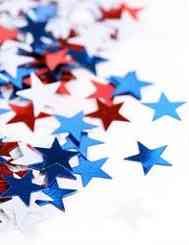 This type of candles we can introduce them in a cup or glass object that is striking and beautiful. We add some water, we place the candles and over put glitter
The glitter we can buy it from colors or of a single color. They also exist in multiple ways, we can combine it for example of stars and dots or hearts ... as you like.
When sprinkling over the candle, the glitter or glitter, some of these will be floating in the water and others will be attached to the candle. In this way we will obtain a small very decorative center and above all romantic.
If it's too small, we can always group several glasses and arrange them as we like. In a row or in a group Three in three ... we leave this to your choice.