When in the same space we must locate two environments, get separated through the decor It is not always a simple task.
An effective way to get separate two different environments that are in the same room or in the same space, is to decorate them independently and with completely different decorations in each of them, decorations that have nothing to do with each other .
A perfect example of this is this dining room who shares space with a small living: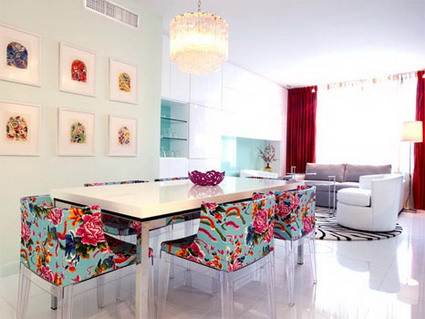 As you can see, the decoration of an environment has nothing in common with the decoration of the other. It is thus, using different decorations, how the separation of both sectors has been achieved.
For livingit has opted for a discreet decoration with colors and neutral tones. In fact, in the living room, the only note of color is provided by the curtains, for which a very intense red has been chosen.
However, for the dining room it has opted for a decoration totally different from the previous one.
Without a doubt, the protagonists in the dining room are chairs, chairs that stand out for their cheerful and colorful pattern in turquoise, fuchsia, red and green colors, and also for their original transparent legs. Although, not only the chairs bring joy to this cheerful and colorful decoration, they also put their two cents Tables that are on the wall. If you notice, the designs and motifs of the paintings combine with the colors of the chairs and also with the white of the table.
When it comes to shared spaces in which it is intended to separate environments, this is a solution that is very effective.