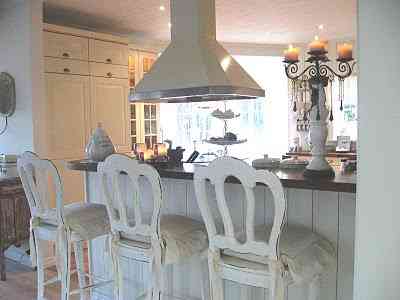 La shabby chic decoration It is a form of decoration that girls like a lot. It is an evocation of floral prints and pastel colors that is enjoyed a lot and that can be applied to different home environments such as the bedroom, the living room and in this case, the kitchen. The kitchen So important is not always so well received when designing, as thinking that it is not of special interest and that it only requires functionality, error, the kitchen should look as cozy as any room in the home.
La kitchen decoration Shabby chic style, It captures a style that is between the vintage and the floral because it has both and also the use of pastel shades of colors such as pink and blue and extreme use of white. All combined gives beautiful environments, in which also as we have said, we must bear in mind the furniture. Although today does not abound so much the vintage furniture, you can get it in antique stores, or you can achieve charming and quality imitations.
If you like this decorative style and you decide for decorate the kitchen Shabby chic style, you must bear in mind that floral prints are essential and you can apply them to tablecloths, curtains, and others. The furniture is vintage and blank worn, therefore essential. You should also take advantage of the floral, using flirty vases and taking advantage of the beauty of roses, roses abound this cute decorative style.
The flights in the details of the napkins and tablecloths is an aspect that you should make the most of. So we'll leave you with a couple of images so you can get to know this kind of kitchen decoration and go thinking about undertaking the project of turning yours into a coquettish environment with a spring and floral aspect.