When one changes residence, the theme of adapting to the new neighborhood, the children to the school, or the adults to the new job. When the change is to another country, the thing seems to be complicated and then it is already crossed that siel weather, the seasons and, above all, the culture. At the time of going to make the purchase, things will be called the same in the market ?, and that if the same language is spoken because one also wonders if you will find new food products, and how they are prepared, and that how do you pronounce. Well, let's not talk about the schedules, if on this side of the world it gets up too early and the day ends too soon, that if they leave me only an hour to eat, ... what about the siesta? What about the nap?
Sometimes I think that I like Japan a lot, but I do not know if it would last, as a Latina that I am, the rhythm of life that seems to be there, or if I adapt properly to their culture. However, I was happy to cross this Japanese design furniture, which has changed my way of thinking about Japanese culture a bit.
It's called Inemuri-kun, which means something like nap or nap. What a joy! The Japanese have a word for the siesta! The English translation is more ... I do not know, Wood Rocking Relax Chair. Its creator is a wooden furniture manufacturer called Adachi Kizai Kogvo, who can only make three of these seats a day and only on request.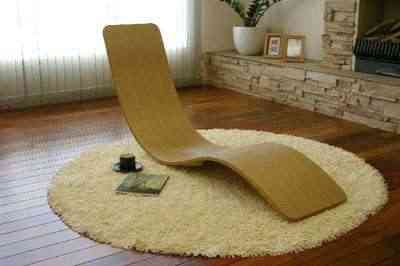 Its minimalism is evident as well as surprising. Despite its simplicity and that it seems to be rather uncomfortable for not carrying any type of padding or cushion, the Inemuri-kun is preferably ergonomic, adapts to the shape of any body, even that of a child, and also works as a rocking chair It's enough to have a little skill, and the simple wooden form starts to swing and, of course, who does not sleep for a while?
More information. http://www.salvador.jp