The chair CH 24 It is a design that is more than a decade old but, on the contrary, every day is younger. It was created in 1950 by Hans J. Wegner and since then it has maintained its original form although subjecting itself to minor modifications and "modernizations".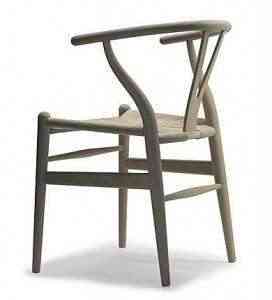 The main characteristic that identifies it is its curved backrest, which gives it comfort and allows to change its position. Wegner set out to create with this design a chair without backrest, without beginning or end, to be contemplated from any angle, and for this he was inspired by the Chinese armchairs of the 18th century.
Elegant, simple, light and practical, it is one of the most sold chairs in the whole world and is produced from the beginning by the firm Carl Hansen & Son. It is also known as Y-chair and Wishbone Chair, because of the shape of its central piece in the shape of Y, it is also made in several woods to adapt to the decoration.
Other firms such as Andreu World (first image) or Concepta (second image) have adapted the original form changing some aspects, as can be seen in the following images.
Via: My house magazine