Space and economics means that more and more furniture with durability and various uses is being designed and acquired, but this is a particularly complicated task if we talk about baby furniture. After a few months we can no longer use them because children grow up and need other objects.
For example, high chairs. They are furniture that are usually used but in the end they are destined to stay in a corner, but this does not happen to this design.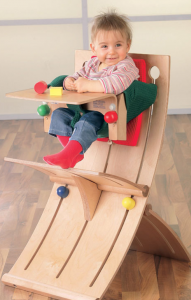 The model is called Chairing and it is a birch wood plywood highchair created to be many more things, a flexible system designed for the little ones in the house as well as for the parents.
The idea was developed Christophe Walch for the company Crival thinking of a piece of furniture that grows with the child, that can regulate its growth and even that can serve as a desk, and all without using tools.
The price is around 200 € -245 € according to the store and can be purchased, for example, in Bebeando and in Eurekakids, but for now only in red.
More information: Crival
Vía: Decopes