I must confess that I love the skin as a material of manufacture. It is inevitable to know their benefits by using items as basic and necessary as shoes, purses or belts. I remember perfectly that nobody at home questioned the fact of using these complements made of natural leather, in fact my parents and brothers praised the quality of some over the others. In adolescence I had some clothes like a black skirt (which was perfect to go to parties), a cowboy and some hunter. Nothing like the skin to go informal but with a lot of style.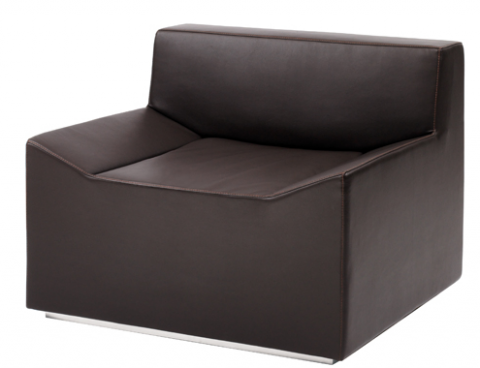 The charm ended soon, when I met the leather upholstered armchairs, also in my early youth. The first impression was of fascination as it is impossible not to feel the comfort and comfort of the material in those dimensions. The second was rejection when I understood that not only was lying on the skin of a whole cow but in the two, at least. I needed life to hit me in the conscience with a three-seat chair, with a solid cedar structure and lined with the skin, dyed in black, of a pair of sacrificed mammals.
Fortunately, I found a medium point that gave me back the possibility of enjoying the characteristics of the skin without being charged with guilt and remorse; the ecological option preserves all the qualities besides the life of the cows. After the discovery, the first thing I did was to buy the COUCHOID armchair, designed by the BLU DOT house, and sit down to read the newspaper on it. Its simple design, its basic lines, and the fact of being ecological and bio-sustainable convinced me to acquire it. It measures 28 inches high, 37 inches wide and 34 inches deep.
More information on the Website www.bludot.com