Not everything expensive has to be good, not everything cheap bad ... today in Decoration 2.0 we show you how to make this spectacular centerpiece, to decorate your home ... with the best, the best.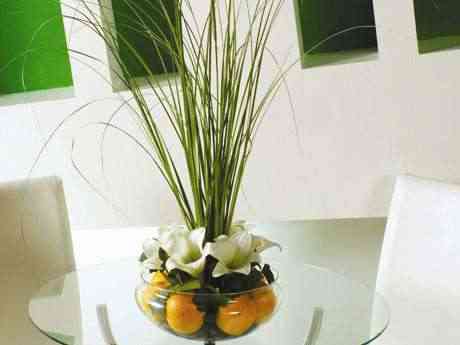 The realization is quite easy, staying an optimal result in the simplest way. The materials are as follows:
- A glass container of about 30 cm in diameter
- Colored stones
- Green or orange apples
- Lilies or lilies (or some flower that you like ... but keep in mind that it should go well with color of the fruits you choose)
- Ferns or cut branches (quantity needed)
- Florist's sponge
First we will introduce the stones of colors inside the container that we have selected. If we want we can choose all the stones of the same color or of two different ones.
Once the stones are placed we will place the sponge in the center florist and, around, the oranges, apples or selected fruit. Now we will prick the flowers that we like the most on the sponge. Try to leave a space in the middle of the sponge to fit the branches of cortadera or the one that we like and ready to decorate.