You look at it, you look at it and you look at it again. It is clear: your room needs a good change. Today we are going to tell you some simple things that have a great impact on the decoration of living rooms. Tricks to make your living room look like another without getting into big works or spending too much.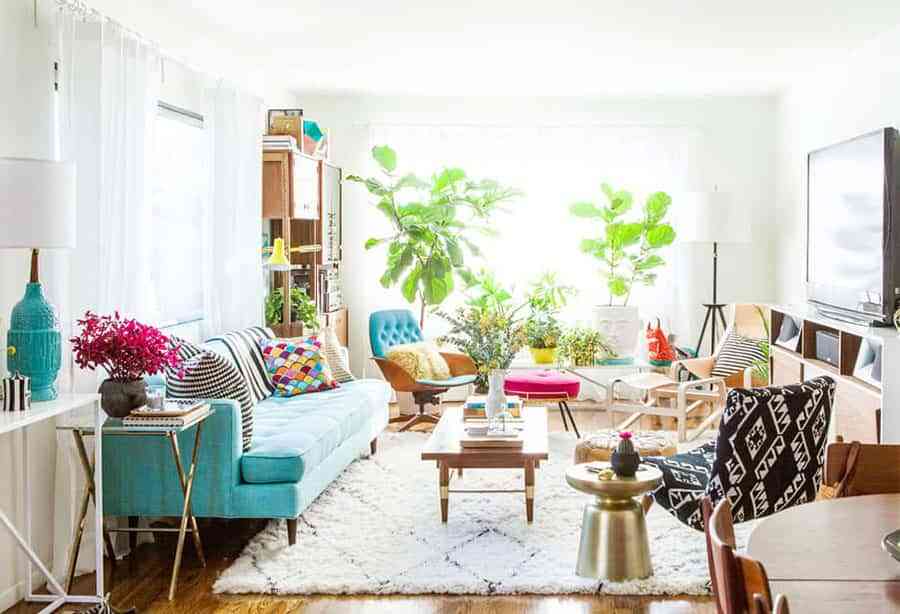 If when you are sitting on the sofa you look around and what you see is not what you would like to see, then the time has come to renew the space a bit. But is it possible to make certain changes in the decoration of salons and to be noticed, and most importantly, without leaving a fortune in the attempt? It is possible and today we tell you how you can get it. Attention!
Keys to succeed in decorating rooms
Getting to have the house that you have always dreamed of is not easy. Maybe ours seems too small, that we do not like the neighborhood where it is, or that it is already a few years old and needs a complete remodeling that we can not afford. But nevertheless, It is important that our house, whatever it is, we like it. That we fall in love with their spaces, that they bring us well-being and protection.
So if your room is starting to horrify you, change it before the thing gets worse (I assure you that the best will not go). What do not you have the budget to invest? It is no problem. Today we are going to see some really simple changes that will make your room look like another. And, this is the part I like the most, with a minimal investment.
How to face the renovation of a space
In decorating salons, as in the rest of the spaces of a house, there are many things that can be done without completely remodeling the structural elements of the space. That is, we can focus on the decorative details that will have a great impact on the final result.
To begin, we can get rid of those things that do not excite us too. Maybe you used to love those paintings that hang on the wall, but now you're tired of seeing them and they do not excite you at all. Well, remove them and try to sell them in a website selling second-hand goods. And do the same with all those things that you feel that you have left over.
Does your couch bore you but you can not change it for lack of budget? Get some good covers and give it another air. Better if you invest in ones that are of quality and that are pretty once placed (run away from the covers that make your sofa look like an amorphous object full of wrinkles).
This is a good time to take advantage of and make a wish list of all those things that you would love to put in your house, but that escape a bit from the budget you have now. A lamp style mid century modern, a special vase, an auxiliary table with a marble envelope, some decorative candles ... Put on the list everything you like and share it among yours. It will be a source of inspiration when your birthday arrives.
The living room, a multipurpose space
I do not know if the same thing will happen to you, but in my house the room is a space in which many different things are done. It is the living room, the play room, the study or workplace, the entertainment room, etc. Therefore, it seems to me that the decoration of salons like mine must be designed in a relaxed and neutral style, that suits all these situations. And this has to be reflected in the organization of the stay.
For this, we will start with reduce the colors with which we dress the space, so that it is more cohesive. It is a good idea to use a neutral tone as a base: white, light gray, beige, etc.
Maintain order, real and visual
Then we will have to try reduce the visual disorder of the room. Remove everything that you do not like or that gives you anything, and before replacing it with other things, let the space breathe. The picture galleries I love them, but maybe you can simplify the interior design by replacing yours with a simple large-sized painting.
And, of course, try that there is enough space to store everything, from books to toys, if you have small children who walk around the room. Better to leave a space for them than to chase them constantly to take their things to their room, do not you think?
A touch of warmth
After the changes made so far, your room may have been a bit cold and empty. You have dedicated yourself to removing what you no longer like, but now you must bring that warmth that space lacks.
But how to do it without falling into excess? Well, an idea that works is Incorporate different layers and textures through textile elements. How to put a nice design rug and colorful neutral, but special. Other textile elements will also help you: a loving blanket for the sofa, new cushions, a knitted pouf of those that, in addition to decorating, give you an extra seat for when you need ...
And for the final touch, I recommend you choose some indoor plants that give freshness and character to the space.
With these ideas of decorating rooms, I am sure that your space has been completely renovated and now it seems another. What?