1 sofa It is a design of the Italian firm Name that will save the lives of many mothers. How many times do you scold children for jumping on the beds, on the sofa, for making a fort with the cushions and playing the Indians? They usually leave the house upside down but with this sofa all that is over.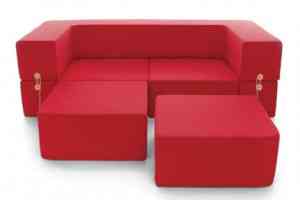 With it you can play at will, move, remove and put cushions, etc ... is composed of modules that can be combined in different ways and recompose as you prefer. A sofa, a bed, a play area, a chaise longue ... I'm thinking it's not just for children, right?
It is available in cotton, linen and wool fabric, and in various colors. It measures 130x 65 × 40 and is removable, essential feature if we talk about children. Nume have several distributors in Spain where you can find their products, among them Coolkids (Madrid) and Nobodinoz (Barcelona).
Vía: Decopes
More information: Nume