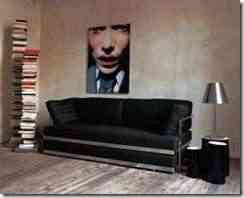 We need them when we least expect. Sometimes months are spent that are not used and still, they keep a predominant place in our homes.
They are our lifeline when we need an extra bed for our friends and we have no place to offer them for a comfortable stay.
Who are we talking about? It is not difficult to guess that we are talking about sofa beds. These badly loved decorations that quietly occupy their space knowing that sooner or later they will be used.
They are badly loved in decoration because the models of sofa beds that manage to solve the difficult equation of comfort versus functionality are rare. It is that they have a double obligation to be comfortable and at the same time provide unforgettable nights of sleep for our guests.
The straight lines models, present better features at the design and comfort level since they manage to lodge a bed structure properly hidden keeping balanced and elegant proportions.
For those who do not need a double bed for the guests, we can also talk about the armchairs that become beds that have the advantage of not occupying so much space.
From the traditional wild-card furniture that we usually find in the impersonal halls of furniture fairs, more robust models with a more elegant design are now emerging.
See the BBB-Emmebonacina armchair model that hides a comfortable bed without ever slipping away from its distinctly contemporary look.
Here are some tips to keep in mind when choosing your sofa bed
1 - Check if the mechanism to assemble and disassemble the bed is easy to handle.
2 - Prefer models that have a mattress with a minimum thickness of 10 cm.
3 - Check if you have sliding feet, since it is often important to change them to open the bed.
4 - Finally, do not be impressed by cheap prices that do not offer minimum guarantees. The mechanisms of these furniture must be robust and allow an undifferentiated use.