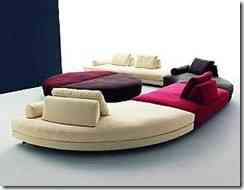 This new trend is part of a style that allows the bearers of this type of furniture to adapt their sofas to the occasional requirements, be it for visits, meetings or simply because we have a family of good proportions.
Transforming and altering the forms of furniture that we select for our houses this new tendency to conceptualize the sofas brings as a first half the adaptation of the environment to the piece and not vice versa, the old ways of wooing and selecting our sofas will be obsolete by this new way of conceptualize the spaces.
During the decade of the 80 the creation of this type of furniture was devoted to a piece for 3 or 4 people, while the society in which we are implicit suggests that our families can be extremely more numerous, or as singles we can accommodate during certain days of the week to a whole multitude of friends that will require feeling as comfortable as possible.
With this new conception of the pieces in sizes XL and of varied and adaptable morphology, our children, friends and family will feel very comfortable sharing pleasant moments in our salons.
Sinuous and elegant they provoke an opening in all the styles of the creativity of the designers, who find in this type of pieces a practical way to conceptualize the spaces without too many ornamental highlights.
The XL sofas are aesthetically designed for a modern and avant-garde decoration where the straight lines of the old models give way to more round and stylized shapes.
The old concept of the sofa to watch television has been transformed into a space where the whole family will be able to carry out numerous activities, turning our living rooms into the favorite environment and of the largest traffic of our house.
The style is well focused, as we discussed above it is not necessary to dose our space with many ornamental objects, although we can use pieces that highlight even more the avant-garde style of our sofas.
The lighting and the modernist collections in terms of luminaire will be able to form a perfect addition that turns our living room into the object of desire of all those who visit it.
The daring colors and their conjugation speak of a young and fresh decoration that tries to transmit us a way of conceptualizing the aesthetic very different from that of later decades.