El paper It is one of the most precious elements of the company Molo Design. This Canadian company (Vancouverte, exactly) that is dedicated to the design and manufacture of their own products, trying to find new ways to take advantage of the space and investigating the use and combination of new materials that can be renewable.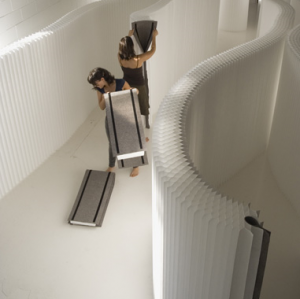 The idea of ​​creating space separators based on a highly resistant paper structure is one of their greatest and most recognized achievements. The creators of this project are Forsythe and MacAllen's, the creation is called Soft and with it they have achieved a resistant, versatile, water-repellent system, with an interior structure similar to the cells of a honeycomb, and at the same time with a great lightness and stability.
You can make endless combinations, with panels of different heights, symmetrical, asymmetric or different colors.
They themselves are responsible for distribution to any part of the world. In the contact section inform the interested parties that, for a better service, specify their country and city of residence.
Further information: Molo
Vía: Opendeco