The admiration that the Spiders -Only the small ones- has been constant for a long time. Its lightness, its appearance and the fabric that weave in the corners of the houses that, how I grew up in, are not clean in detail but only enough, and because of this they allow these small wonders to grow while the plants are characteristics that in my opinion are full of magic and perfection.
The fact that their action in domestic environments is beneficial, because they trap mosquitoes and prevent their bites, and the fact that they are associated with good luck It really makes me like spiders - only miniature - and that every time I find one in my house, next to its fabric, try not to spoil it and do not worry about the much dust that must have accumulated so that the animal could have subsided.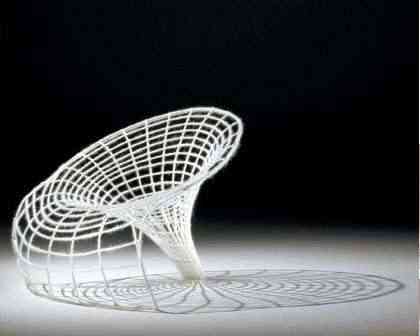 The chair LAZY GREEDY, from the designer LOUISE CAMPBELL, recalls a spider's web, not only because of its appearance but because it is used in corners and is flexible and comfortable. Measure 90 cm height, 80 dm width and 100 cm diameter, and is made of steel of 4 mm thick, lined in 4 km of Agora cotton. It really looks like one of the perfect spider webs that I love so much.
More information on www.louisecampbell.com